By Anthony Cappiello
With all the different places to eat in the greatest city in the world, it's unbelievably hard to pick a few stand-out establishments in the five boroughs to satisfy foodies. When it comes to cuisine, there's nobody that knows food better than a New Yorker.  As a born and raised Queens native, here are my current top five places to eat in NYC (keep in mind, I am still exploring).
1.Gray's Papaya – 2090 Broadway 72nd Street, New York, New York 10021
Gray's Papaya is a take-out NYC-based restaurant with many locations around the city. Gray's has the solution to your cravings by providing the basics of American munchies like hotdogs, burgers, fries, tropical drinks, and even breakfast items. It's fast, cheap, and the best place to stop, whether you're just looking for a place to visit or in a rush to get to work.
2.Wo Hop – 17 Mott Street, New York, New York 10013
Wo Hop is one of my favorite places to hit up in all of NYC. Wo Hop is a famous Chinese restaurant in Manhattan's Chinatown that opened in 1938. The restaurant only seats 20-30 people. Beware….a line that descends the famous set of stairs into the restaurant can be extremely long. And with notable celebrities, travelers from all over the world, and locals looking to grab a delicious order of their famous dumplings, Wo Hop is one of the coolest places to people-watch. Pre-Covid, the restaurant would stay open till 4 am, and now it closes at 10 pm. Be sure to bring cash because it is a cash-only restaurant.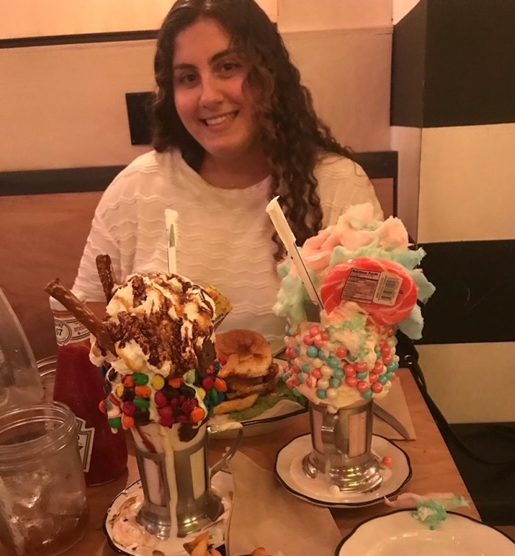 3.Black Tap – 529 Broome Street, New York, New York 10013
If you plan on having a cheat day, this is where you'd want to have it. Black Tap is a burger restaurant with a few locations around the city. Even though their burgers are delicious, it isn't their main attraction. It's their monstrous milkshakes! Their milkshakes are literally over the top, filled with fresh ice cream and other delicious sweets. My favorite shake is the "Sweet and Salty," a frosted chocolate rim with chocolate gems and peanut butter cups topped with a sugar daddy, pretzel rods, chocolate covered pretzel, whipped cream, and lastly, chocolate drizzle. Be sure to ask for extra napkins as soon as you sit down because it does get messy.
4.John's of Bleecker Street – 278 Bleecker Street, New York, New York 10014
John's of Bleecker Street is HANDS DOWN, my favorite place to get pizza in all of New York. With an impressive Barstool Sports pizza review of 9.3 out of 10, John's has served Greenwich Village since 1929. There are all sorts of traditional toppings for your freshly made brick oven-baked pizza, such as peppers, onions, mozzarella, and many more for the adventurous eater. If there were anything that could improve this place, it would be longer hours because I can go to John's at any time of the day or night. It's that good. You can even leave your mark by scratching your name into the original wood tables and chairs, which people have done since 1929.
5.Ray's Candy Store – 113 Avenue A, New York, New York 10009
There's no other store in NYC like Ray's. Founded in 1974 by Ray Alvarez, his store has not only become a staple in Alphabet City but in all of NYC. The store is complete with various foods, snacks, egg creams, frozen yogurts, and milkshakes. Over the years, the store has been in many films and TV shows and has taken part in many events around the city. Ray has also had his hardships. In 2010, Ray was beginning to fall behind on rent and was facing eviction, but New Yorkers weren't going to let the curtain fall on Ray. Friends, neighbors, customers, and other community members gathered and donated to Ray's by hosting fundraisers and events. Just like that, Ray's Candy Store stands strong to this day.
I can go on endlessly about restaurants all over the city I love. The only way to find out if YOU like these places is to go and try them! After reading this list, I hope I made your food decision-making trip to NYC easier.