Commentary
FTC Record
5 Best Cameras for Sports Photography
Sports move fast, and the action won't stop because you need to take a photo, so be sure you have the right camera.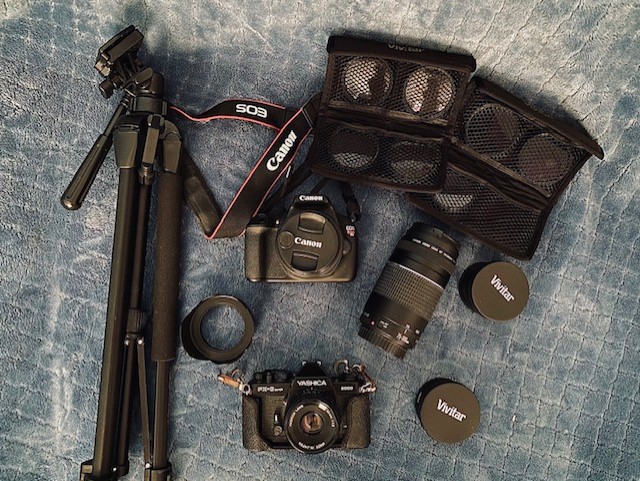 By Sage Albanese
There are many different types of photography that one can get into. With so many options to choose from, finding the right camera can become overwhelming. When it comes to sports photography, the main goal in a camera isn't necessarily the best quality or biggest megapixel, but quick shutter speed and focus. Sports move fast, and the action won't stop just because you need to take a photo. Your camera's reaction time needs to be just as fast as your eye.
Here's a list of cameras to help you find the best fit for your experience, quality expectations and reaction time.
Best For Beginners
Nikon CoolPix 950 – $799.95
The Nikon CoolPix is raved about over its huge zoom lens. This feature can be a major plus when you're in a crowd high up in the stands trying to get photos. However, the camera does have some sharpness issues, especially in high ISO settings, as most affordable starter cameras usually do.
Specifications
Type: Compact
Sensor:  1/2.3-inch
Megapixels: 16MP
Lens mount: 24-2000mm (equivalent) f/2.8
AF points: Not specified
Burst rate: 7fps
Buffer:  10 shots (JPEG)
Weight: 1005g
Best for Camera Enthusiasts
Nikon Z 50-$859.95
If you're new to photography and looking for a camera to have on you at all times that won't give you a hassle with security at the front gate of the arena and still want the high quality and fast reaction shutter speed, then the Nikon Z 50 is a perfect choice. It's excellent for sports photography thanks to its 11fps burst shooting, sophisticated autofocus system, and impressive image quality.
Specifications
Type: Mirrorless
Sensor: APS-C
Megapixels: 20.8MP
Lens mount: Nikon Z
AF points: 209
Burst rate: 11fps
Buffer: Not specified
Weight: 395g
Best for Budget
Canon EOS Rebel T7-$269.00
If you're looking to take up sports photography, but the hefty price tag scares you, there are still many affordable options for getting the ball rolling. The Canon EOS Rebel T7 is a solid camera for beginners and photographers on a budget. This camera has impressive "high-quality shooting, even in low-light situations." Photography is one of those things that comes with a price tag, so it's no surprise that you will be substituting a more high-quality camera for a better price.
Specifications
Type: Digital
Sensor: CMOS
Megapixels: 24.1MP
Lens mount: Canon EF mount
AF points: 9
Burst rate: 30fps
Buffer: Not specified
Weight: 475g
Best for Seasoned Photographers
Fujifilm X-H2S – $2,499.95
This camera is an investment, and we know the steep price tag can be scary. But once you move from beginner to seasoned, you'll quickly realize more things you wish your current camera had, and all those added-on things come with a price. As mentioned earlier, the one thing you'll want in your camera for sports photography is quick reaction time. This camera takes the cake with a class-leading 40 fps continuous shooting with full autofocus functions, which also helps knock out the focus requirement.
Specifications
Type: Mirrorless
Sensor: APS-C
Megapixels: 26.1MP
Lens mount: Fujifilm X
AF points: 425
Burst rate: 40fps electronic, 15fps mechanical
Buffer: 140 shots (electronic), unlimited (mechanical, until card runs out)
Weight: 579g
Best for Professionals
Canon EOS 1D X Mark III – $6,499.00
If you're a professional sports photographer or just a camera junkie, you've likely heard of this camera. The Canon EOS 1D X has been considered the top-rated DSLR camera since its arrival with the Mark I. With this newer version in the Mark III, photographers can quote, "just shoot and shoot and shoot" and remain calm, knowing that their quality and handling are in good hands.
Specifications
Type: DSLR
Sensor: Full-frame
Megapixels: 20.1MP
Lens mount: Canon EF
AF points: 191
Burst rate: 16fps
Buffer: 1,000+ shots (essentially unlimited)
Weight: 1,250g
How to Choose the Best Camera for Sports Photography
As mentioned above, one of the essential things in a camera for sports photography is a quick reaction time, AKA burst rate. When you're in the store looking for a camera, don't be shy to ask an expert about each camera's burst rate. The higher the FPS (frames per second), the better the reaction time.
Another good thing to watch when camera shopping is its buffer depth, which means how many continuous photos it can take. Sports are very fast-paced, and holding your finger down and continuously shooting is almost definitely going to happen, so an extended buffer depth is always a good plus to have if you're looking to take sports photography more seriously.
Autofocus is also a key feature when it comes to sports photography. Manual focus can
be fun, but when you're in a fast-paced environment, it's better to take the easy route and let the camera do it for you. This assistance will minimize stress in an already stressful environment and allow you to shoot photos quicker.
Above all else, one thing that I always stress to anyone that asks for advice on how to get into sports photography or photography, in general, is a telephoto lens. Most companies offer a telephoto attachment to most DSLR cameras they make. If you have the extra money to splurge, this is the top thing I always recommend. The interchangeable lenses help you take various shots at one event, and most telephoto lenses have an outrageous zoom capacity, allowing for more up-close and detailed photos.
If you're on a budget, highly consider investing in a compact camera with a good zoom, such as bridge cameras like the Nikon CoolPix 950 mentioned above or the Panasonic Lumix DC-FZ80K, which is about $500 cheaper than the CoolPix.
Happy Shooting!
Trying to get into sports photography can seem scary, like when trying most new things. You'll have a trial-and-error phase where you will grow and learn what works best for you. It'll take time but finding the right camera that's best for you and your style of shooting, whether sports photography or just regular photography, is the first step to a hobby that can lead you to so many wonderful places.