FTC Record
News
GSB Music Festival- Day 1 Live Blog
FTC Mass Comm Reporters are on the ground at Shorefront Park in Patchogue, LI to bring you all the latest from the Great South Bay Music Festival.
8:15 PM Final Update
We're signing off for the evening! Today was hot, busy, and a lot of fun. Tomorrow, we hand off the blog to our fellow reporters. Hope you enjoyed our Thursday coverage of the Great South Bay Music Festival.
8:00 PM Update
Five Towns College President David Cohen chatted with WFTU Radio Hosts Sam Pernick and Tyler McCready about the importance of the student experience at the Great South Bay Music Festival.
Dr. Cohen, who talked about his passion for music and education, had some advice for radio listeners, "Of course, come to Five Towns College!"
The interview concludes WFTU Radio's Thursday Live broadcast.  Radio coverage of the Great South Bay Music Festival continues at 2:30 PM on Friday.
7:45 PM Update
Miles to Dayton wrapped up an incredible performance at the Five Towns College Stage. The group has strong elements of folk, classical and rock music.  The presence of the violin and a cello was cool and the band sang an amazing four-part harmony. The songwriting was creative and the vibe was perfect for this beautiful summer evening.
Check out their sound:
7:00 PM Update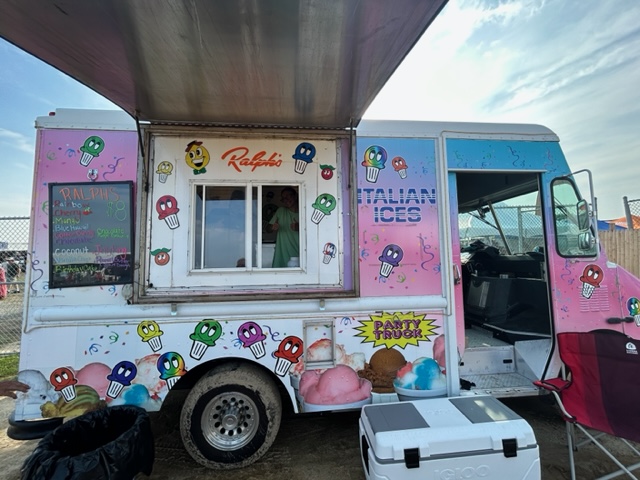 The sun is going down but the temperatures are still in the low 80s.  If you can't take the heat, take a trip to the Ralph's truck located between the main stage and the FTC stage.  For $8, you can choose from a wide range of flavors.  Our very own Professor Brigette Boyle just ate a rainbow ice and gave it two thumbs up.
6:30 PM Update
Take a look at the beautiful Great South Bay and Five Towns College Stage. FTC staff and students are working hard under the blue and white tents to bring you live music and exclusive chats with the musicians. Video by Daniel Garcia.
6:00 PM Update
The second band on the Five Towns College Stage was loved by the crowd. Shecky & The Twangtones, who call their style "retro surf, reggae, and soul jam music for all" played a half-hour set. Thomas Davis (Shecky) decided to form the band around 1999. "The original idea was country twang Americana with a few instrumental surf styles mixed in." The band likes to tell people that "they jam their own jams."
You can jam out with Shecky & The Twangtones here:
5:45 PM Update
Contest Alert! Island Federal has a special contest opportunity for all festival attendees, especially Allman Brothers Band fans. One lucky winner can win an Epiphone Les Paul signed by longtime Allman Brothers Band guitarist Warren Haynes.  Anyone who enters will also get a chance to spin a wheel to win a free guitar pick, yo-yo, sunglasses, or other fun prizes. Before spinning the wheel, festival attendee Sherry Smith said, "It's an amazing opportunity to possibly win an iconic guitar signed by an iconic player."  We hope to win too!
5:15 PM Update
As the Voodoo Ranger Main Stage opens with Kerry Kearny & The Kings of the Pyschedelta, shops like Vision of Tibet, are starting to get busy.  Vision of Tibet is a small shop that sells tapestries, clothing and crystal jewelry. Owner Sonam Zoksam mentioned that "the shop is very different from the others.  It is very colorful and everything is handmade from Nepal and India."
4:30 PM Update
The first band of the day was Lex Grey & The Urban Pioneers. They performed on the Five Towns College Stage, playing a melody of classic rock, jazz and soul. The band has seven award winning albums, and their eighth album was just released in January.  Lex Grey "has been compared to everyone from Betty Carter and Ella Fitzgerald to Robert Plant and Janis Joplin, yet her sound is uniquely her own."
Listen for yourself:
Don't forget, WFTU Radio is live broadcasting all the acts from the Five Towns College Stage. Click to listen.
4:00 PM Update
The gates are open, and many festival goers are entering the venue. Today's lineup includes Dave Mason, Miles to Dayton, and South Bay Soul. Many people are excited for the tonight's main act, Electric Hot Tuna. Attendee Steven Phwarn said, "I came here to see Hot Tuna, and I have been a Tuna fan since I was 15-years-old." The band's GSB performance is special because it is part of their last few shows of their final tour.
3:30 PM Update
There are many different vendors and booths that offer unique experiences throughout the Great South Bay Music Festival from clothing, art, to unique merchandise. Many bands also plan to sell their own shirts during their sets.
Nick Roberts, who works at the Teton booth located next to the Five Towns College stage, talked about the Teton brand, saying, "It's an action sport, lifestyle brand, and ski and snowboard company. They are based out of Jackson, Wyoming and have a free spirited, Patagonia feel."
It's a day for shopping as well as a great music.
3:00 PM Update
Hi all!  I'm John Maturo, a Mass Comm student with a Broadcast concentration. The Great South Bay Music Festival is celebrating 15 years.  While many bands will be performing at the festival, the event also offers a variety of different food choices.
One new food vendor addition this year is Lobster Rolls, Seafood and Fries.  The GSBMF is a great place to attract new customers.  Owner Dan Peskin said "being right by the water with this kind of environment is perfect. Our lobster rolls are top tier."
If you are coming to the festival, definitely check out all of the food tents.
2 PM Update
It's the first day of the 2023 Great South Bay Music Festival and it's a beautiful, sunny day!
My name is Meghan Tinelli and I've been here in Patchogue, New York the past two days with Five Towns College setting up for the Great South Bay Music Festival!  I am a Mass Comm student with a Live Entertainment Media Production concentration.
With help from FTC Professors Michael Kauffman and Oliver Roach, students are working hard to prepare the Clamshell Bandshell for all the exciting performances to come this weekend.
PICS:
WATCH:  Set-up of the Five Towns College Stage at the Clamshell Bandshell.
The Mass Comm FTC High School Summer Scholars are also here with us today covering the music event.