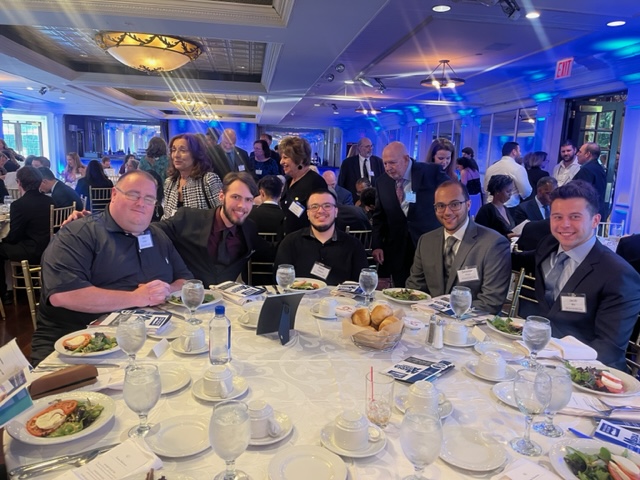 By Daniel Garcia
The Press Club of Long Island hosted its annual PCLI Media Awards on June 15th at The Fox Hollow in Woodbury, New York. The event recognizes the work of journalists in print, broadcast, and online media. Over 150 awards were presented, including three to Five Towns College students.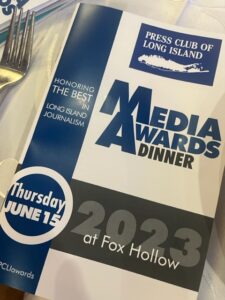 The awards ceremony began with the induction of the Long Island Journalism Hall of Fame Class of 2023, which included Danielle Campbell, an Emmy and Edward R. Murrow award-winning journalist who recently retired from a 30-year career at News 12 Long Island. Campbell has also served as an Adjunct Professor at Five Towns College. Other honorees included Larry Levy, a Pulitzer Prize finalist and now Executive Dean of Hofstra University's National Center for Suburban Studies; Irene Virag, Pulitzer Prize winner and current Associate Dean and Undergraduate Program Director at the Stony Brook University School of Communication and Journalism, and the late Sid Cassese who was a respected Newsday reporter over his 42-year career. Cassese passed away in February at the age of 83. His granddaughter accepted the award in his honor.
Current Mass Communication students Kate Miller and Chrissie Pastrana and recent alums Sean Lanigan, Jacob Bila, Manny Vazquez, and Sebastian Prout were awarded third place for Best College Television Broadcast work in FTC's Advanced Lab Newscast. The students were thrilled to win this award together. Jacob Bila shared, "It feels great, especially winning this with my fellow Mass Comm peeps."
The students' families and Five Towns College administration and faculty were in attendance, including Vice President Janet Kaplan, Director of Career Services Krysti O'Rourke, Mass Communication Chair Holli Haerr, and Professors Brigette Boyle and Rashika Williams.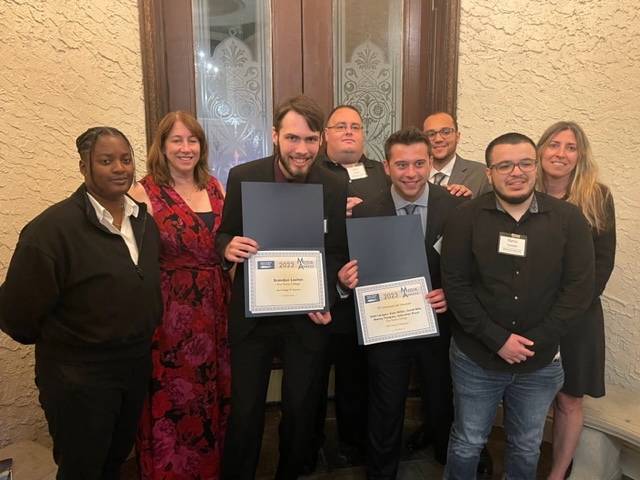 The PCLI Media Awards is a special night for Haerr, who expressed her pride and excitement, stating, "Early in my career, I won a few of these awards myself, and I am so much more excited to see my students winning them than I ever was for myself. It just makes me so proud."
Five Towns students were thankful for all the lessons and techniques they learned in class. "I was nervous when I was up there [during the newscast], but I always remembered what Professor Mike Quick told me, not to read it but to perform it," said Sebastian Prout, who anchored the sports segment of the newscast.
Brandon Laxton, a 2023 graduate, won two individual awards: second place for Best College TV Reporter and third place for Best Student News Package. Laxton was proud to be recognized by the PCLI, saying, "I am speechless. It's my second year being a winner at the PCLI awards, and I would never have expected to walk home with not one but two awards."
While reminiscing about his time in college, Laxton shared, "I have done a lot at Five Towns, and I think I have experienced a lot of growth over the years from my freshman year, where I couldn't even be in front of the camera without stuttering, to going out and becoming who I am as I graduate."
The Press Club of Long Island's Media Awards and Hall of Fame induction ceremony will return next year to continue honoring and recognizing the work of journalists all over Long Island. Submissions for the 2024 awards open in January and will remain open until March 1st. For more information about the awards or to become a member, check out pcli.org.